Cancellation Policy
In the unfortunate event that you have to cancel your stay with us we will refund your deposit based on the following conditions:
1. Cancellation is made at least 4 weeks in advance of your stay. After this, your deposit will be retained. If your cancellation is made within 10 days of the booking start date then the remainder of the balance will be due.
2. If you are unable to cancel within the above time scales, your deposit is non refundable and the remaining balance may be due except for when a replacement booking is made before your original stay date and for at least the same value. If we are not able to re-sell your original dates due to short notice, the option of a replacement booking may not be available.
3. If your booking is made through a third party, then their terms and conditions regarding deposit and balances will apply.
4. We may cancel your booking before your arrival date. If we do so we will refund any monies paid. Compensation will not be paid.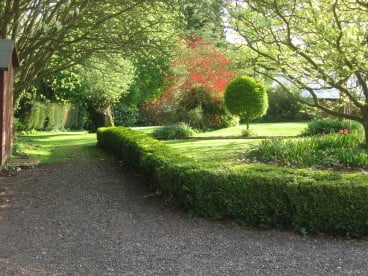 5. Once you have arrived at The Walled Garden we reserve the right to ask you to leave our premises in the following situations:
a. Nuisance such as noise.
b. Unacceptable/offensive behaviour.
c. Vandalism.
e. Damage/destruction to the property or grounds.
6. Force Majeure
We regret we cannot accept responsibility or pay any compensation where the performance or prompt performance of our contract with you is prevented or affected by reason of circumstances which amount to force majeure. Circumstances amounting to force majeure include any event which we could not even with all due care, foresee or avoid. Such circumstances include the destruction or damage of your holiday home (which cannot reasonably be remedied to a satisfactory standard before the start of your holiday) through fire, flood explosion, storm or other weather damage (including a period of electricity failure), break-in, criminal damage or any similar event. Such circumstances also include riots or civil strife, natural or nuclear disaster, war or threat of war, actual or threatened terrorist activity and all similar situations beyond our control.
7. Your obligations
We ask that guests take proper care of the property and its contents. The property should be left in a clean and tidy manner as it was when you arrived. If you have any queries concerning the state of your property on your arrival please discuss this with us immediately.
a. Breakages or damage must be reported to us and made good or paid for if appropriate.
b. The Walled Garden is strictly No Smoking. Smoking is not permitted anywhere on the property.
c. No additional visitors are permitted to stay over night without prior permission.
d. The property must be vacated by 11.00am on the day of departure.
e. All fixtures, fittings and equipment must be used solely for their intended purpose.
f. You are responsible for arranging insurance for your own belongings.
8. Our Obligations
a. We will do all that we can to ensure that all advertised facilities are available on your arrival.
b. We provide all bed linen and towels for use during your stay at no extra charge.
c. Electricity and water is included in the price of your stay. We request that heaters are turned off while you are out of the property.
d. We reserve the right to enter your property at any reasonable time, giving reasonable notice, to make an inspection, carry out repairs or carry out maintenance.
e. We accept no liability for any accident, loss, death or damage to you or your property unless such loss, death, damage or accident is due to our negligence.
9. This Contract is subject to the laws of England and Wales and the jurisdiction of the English courts. YOUR STATUTORY RIGHTS ARE NOT AFFECTED.
Charlotte & Phil Newby, The Walled Garden, Stamford Road, Barnsdale, Rutland LE15 8AB. 01572 720388.