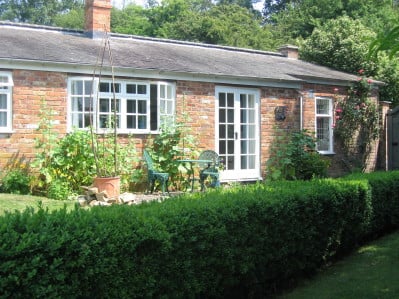 The Walled Garden Holiday Cottage is a charming self-contained cottage that sits in a private, quiet garden in the heart of Rutland just 300 metres from the banks of Rutland Water. It's perfect for a weekend getaway, ideal for rest and relaxation or enjoying exciting outdoor pursuits.
The cottage has been tastefully furnished to offer a comfortable, peaceful and private stay. It has a large double room with king-size bed, ensuite bathroom, well-equipped, newly fitted kitchen with a selection of teas and coffee, dining area and sofa. There's also a flat-screen tv that you can watch from the sofa or from the comfort of your bed, and free Wifi.
If you have an enquiry, please email or call 01572 720388 and we'll get back to you as soon as possible. Thank you.
Open from 1st April 2022. The price for a stay is £95 (Monday to Thursday) - £115 (Friday to Sunday) per night for two people self-catering.
From July 1st to the end of August, and for Bank Holiday weekends, it's £115 per night. Two-night minimum stay.
Call Charlotte to book your stay on 01572 720388
The Walled Garden, Stamford Road, Barnsdale, Rutland LE15 8AB